Garden Games for Grown-ups, Southside Living Magazine, January 2017 issue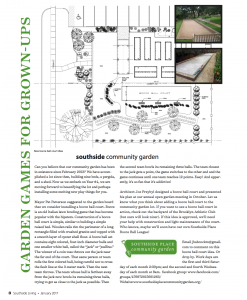 Can you believe that our community garden has been in existence since February, 2013? We have accomplished a lot since then, building nine beds, a pergola, and a shed. Now as we embark on Year #4, we are moving forward to beautifying the lot and perhaps installing some exciting new play things for you.
Mayor Pat Patterson suggested to the garden board that we consider installing a bocce ball court. Bocce is an old Italian lawn bowling game that has become popular with the hipsters. Construction of a bocce ball court is simple, similar to building a simple raised bed. Wooden rails rim the perimeter of a long rectangle filled with crushed granite and topped with a smooth layer of oyster shell flour. A bocce ball set contains eight colored, four inch diameter balls and one smaller white ball, called the "jack" or "pallino." The winner of a coin toss throws out the jack near the far end of the court. That same person or team rolls the first colored ball, being careful not to cross the fault line at the 3 meter mark. Then the next team throws. The team whose ball is farthest away from the jack now bowls its remaining three balls, trying to get as close to the jack as possible. Then the second team bowls its remaining three balls. The team closest to the jack gets a point, the game switches to the other end and the game continues until one team reaches 12 points. Easy! And apparently it's so fun that it's addictive!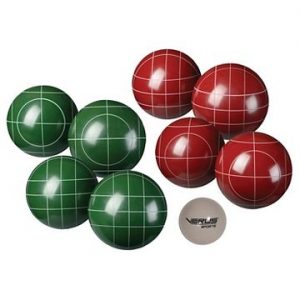 Architect Joe Przybyl designed a bocce ball court and presented his plan at our annual open garden meeting in October. Let us know what you think about adding a bocce ball court to the community garden lot. If you want to see a bocce ball court in action, check out the backyard of the Brooklyn Athletic Club (but ours will look nicer). If this idea is approved, we'll need your help with construction and light maintenance of the court. Who knows, maybe we'll soon have our own Southside Place Bocce Ball League!
Email jbab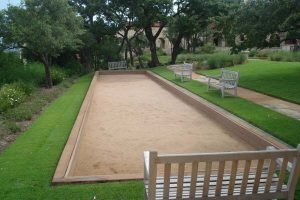 cocktx@gmail.com to comment on this bocce ball court idea. Or drop by. Work days are the first and third Saturday of each month 2:30pm; and the second and fourth Wednesday of each month at 8am.
facebook group: www.facebook.com/groups/476972015691263/