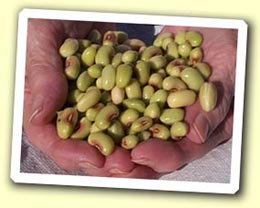 Have you seen the long purple bean-like things growing in the garden? They are purple hull peas, a Southern favorite much like black-eyed peas. All you have to do is split the purple shell or hull down the middle and push out the peas. Or better yet, have your kids do it while they are watching TV! Of course, you don't eat the hull and must boil the peas for about 45 minutes. Any black-eyed pea recipe should work with these fresh peas. Or here is one that looks good:
Fresh Purple Hull Pea Recipe
2 pounds fresh shucked purple hull peas
2 garlic cloves, whole
1 tablespoon canola oil or bacon drippings
1 1/2 teaspoon salt
1/4 teaspoon pepper
5-6 slices bacon
enough water to cover peas in the pot
Place oil or bacon drippings in a large pot over medium high heat. Add chopped bacon, onion and garlic. Rinse peas and add peas and enough water to cover the peas. Bring to a boil and cook about 30 minutes. Lower the fire to med-low, cover and cook until the peas are just starting to soften a little stirring occasionally. Add more water if necessary, you want at least 1 inch of water above the peas. When peas are done drain off some of the liquid season with salt and pepper and place in a serving bowl.
from http://www.mommyskitchen.net/2008/09/hot-water-cornbread-purple-hull-peas.html