Who knew that a shed could create such community? Shed construction by Alpine Portable Buildings began on schedule March 3, 2015.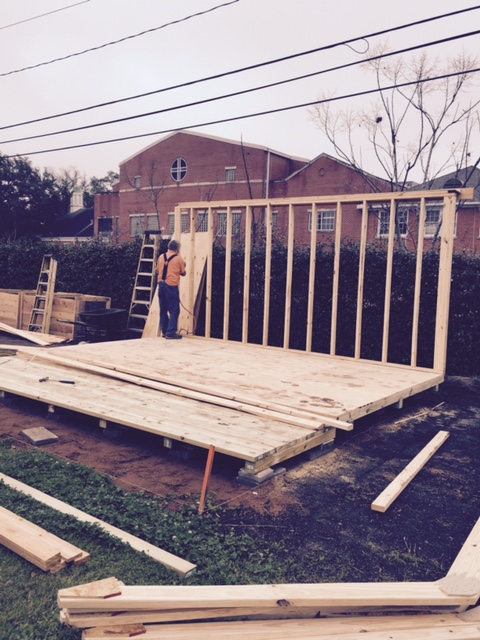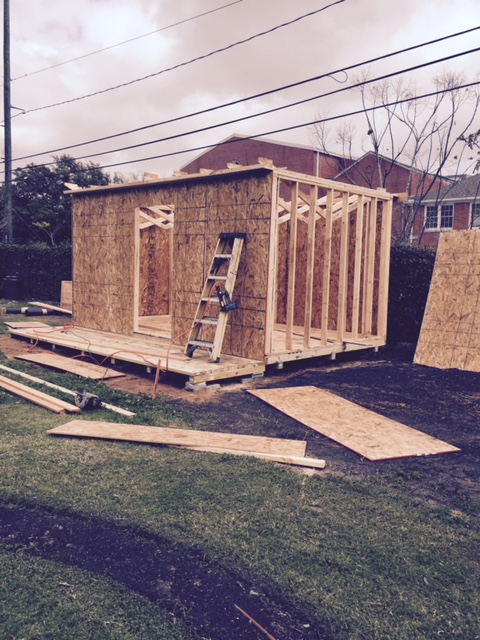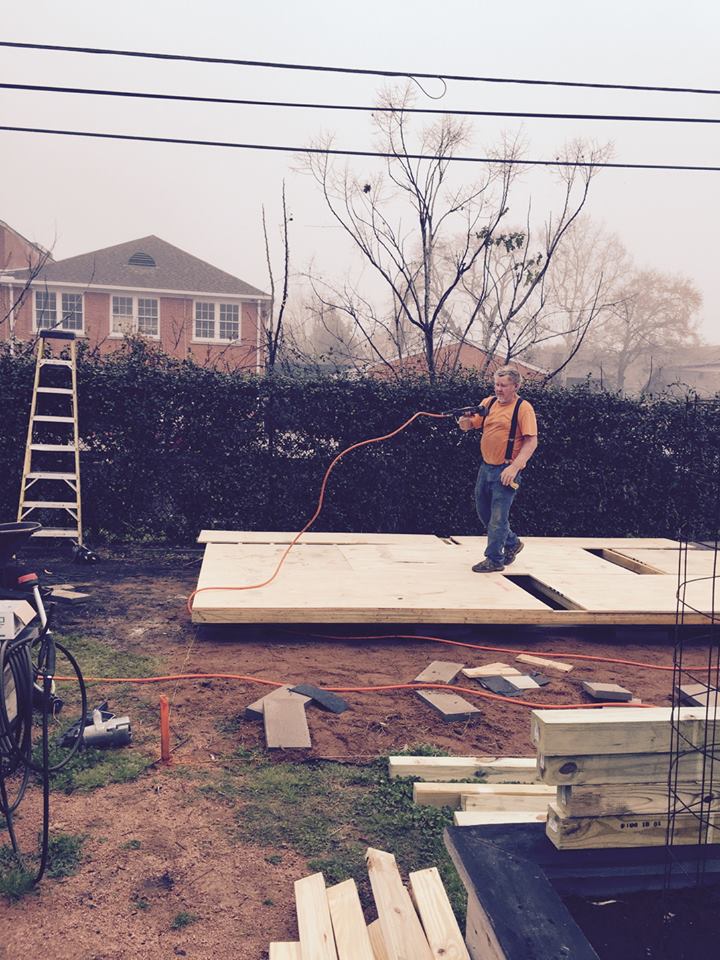 Even before it was finished, a crowd grew and a party started.
From the beginning, the garden shed has been envisioned in the garden design as both a necessity and a perk of the garden. It is a necessary structure to hide the detritus of gardening. Previously, we hid wheel barrows, rakes and shovels behind temporary bamboo fencing. The fencing promptly rotted, looking worse than the equipment it was installed to conceal. The shed was also designed to make the garden more user-friendly. Garden members suggested decking out the shed with bulletin boards, swings, rocking chairs, a sink, beer keggerator, an espresso machine, and a wine fridge. Not your typical garden shed
Texas Citizens Bank generously donated the money for the construction of the shed, which will carry their logo. But what should it look like? Although durable and economic, ugly plastic sheds were immediately ruled out. Anything on the garden lot must be "in keeping with our neighborhood," a phrase that we learned at the Urban Harvest class called Starting a Community Garden and often bandied about. Pinterest is abuzz with adorable, creative garden sheds. Architect Joe Przybyl designed a lovely shed with a pitched roof and a porch overhang, inspired by one we saw near HSPVA.  Amy Bryant (see below) found an adorablepre-made shed from a Canadian company, but the shipping to Texas was prohibitive.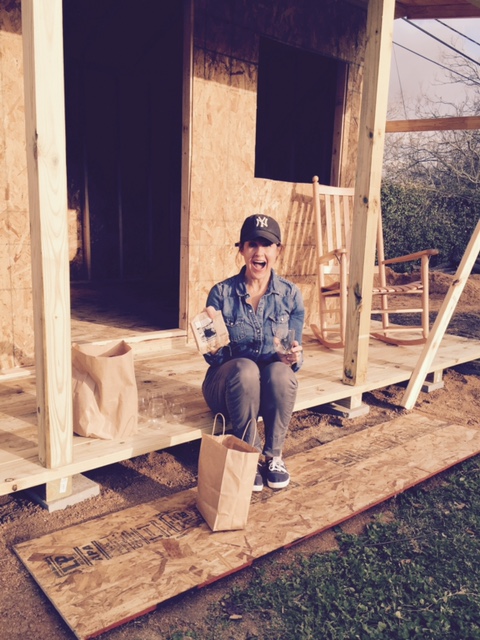 Eventually, I ran across a local company who builds custom sheds on your lot whose high-end "cedar chalet" model looked remarkably similar to Joe Przybyl's design.  Considering that they have ample experience building sheds (whereas our Building Committee, made up of lawyers, physicians, and architects do not), Alpine Portable Buildings was hired to install a shed on the back of the garden lot. Moreover, this portable building will be more cost-effective than building a shed from scratch, especially if you add in the billable hours of the Building Committee.  After construction, our Building Committee will be have to decide how to furnish the interior. I'm guessing that they'll make room for that keggerator. Cold beer, anyone?
Garden Members: Claire, Kay & Krista celebrate into the wee hours.
Thank you. Texas Citizens Bank for sponsoring this shed. And thanks also to Ms. Kay Browning who immediately furnished it with three rocking chairs.
Day 2 Construction: