As the summer heats up and the neighbors leave on vacation, the garden winds down. Few crops are planted in the heat of the summer. The tomatoes, if there are any left, cook on the vine. Few garden members who are actually still in town want to weed or water in 90+ degree heat.  The party season is over—it's too hot for an outdoor party and it's too hard to schedule around everybody's travel plans. Only the okra are happy in this intense, suffocating heat.
Which gives us time to reflect on the community garden's mission and progress. One respected garden member commented that we're really not a serious garden—that we're doing this "more for fun." True, we are not a production garden, logging our progress by the number of pounds of produce we grow. On one city lot, we are not going to solve world hunger. True, we are not all interested in becoming Master Gardeners or are fascinated by the subtleties of diagnosing a magnesium vs. a manganese deficiency in the beans. And, true, we do have a lot of exceptional parties. But we also have a mission that we take seriously.
The mission of this garden is to create a beautiful, shared, public space for growing organic fruits and vegetables for residents of Southside Place is donated to local food banks. Planting and harvesting is done by members following a master plan for plant selection, fertilization, and crop rotation. Local schools use the garden for educational purpose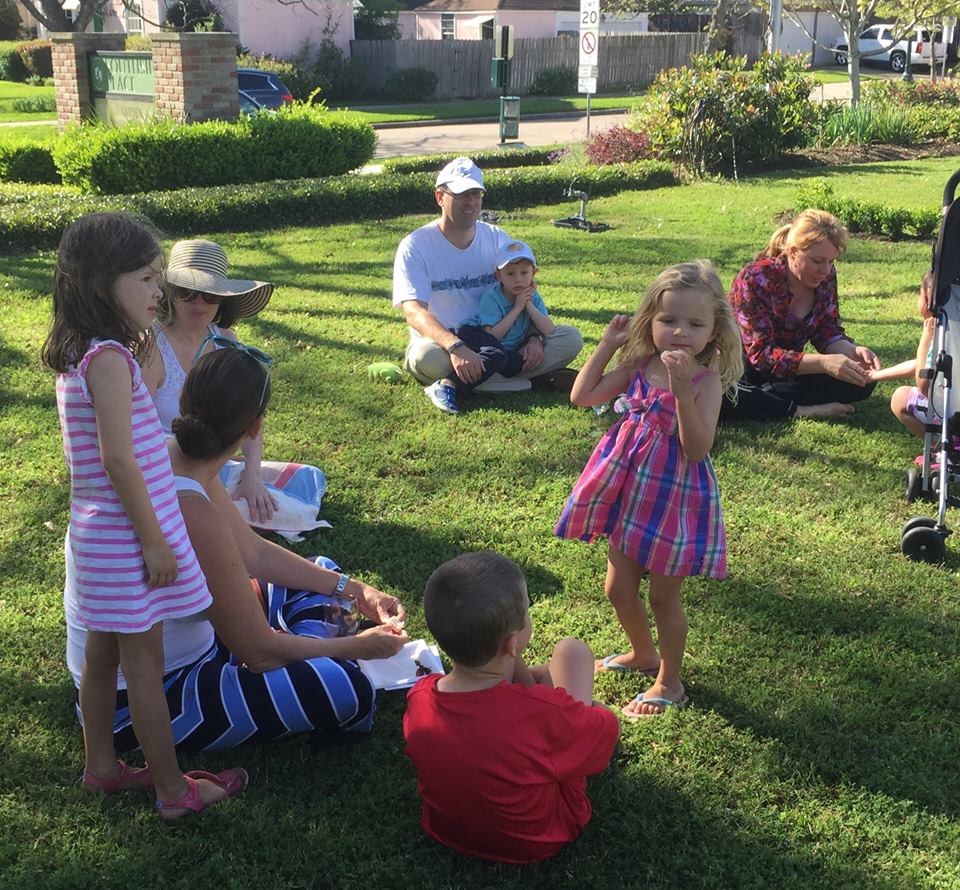 s. Children learn how plants grow (no, son, carrots do not grow on trees) and learn an appreciation for vegetables that they may someday actually eat. The garden also serves gathering place for picnics and parties.
The garden organization, an affiliate member of Urban Harvest, began February 24, 2013 in a public meeting. We voted to have a communal garden, possibly with some allotted plots for rent by individuals at a later date. The City of Southside Place awarded us the use of one city-owned lot for at least for five years. We became an official 501(c)3 nonprofit corporation effective October 7, 2013 so that charitable contributions are tax-deductible. Since then, we have installed plumbing, built the first eight raised beds and planted and harvested our two years crops. The front and side habitat gardens attract beneficial insects making us a certified butterfly habitat. We built a tool shed, sponsored by Texas Citizens Bank. We have made several deliveries of fresh produce to appreciative, local food banks. We have had several lively fundraising parties and have generated a lot of interest and camaraderie in our community.
So while we've had a lot of fun building a productive garden on a vacant city lot, we are not just playing in the dirt. We are growing something meaningful, engaging and sustainable.
We are proud of our accomplishments so far but we continue to build and grow. Here are our plans for this year:
Meet in the garden first and third Saturday of each month at 9am; second and fourth Wednesday of each month at 8am to maintain the garden.
Construct the new gazebo, sponsored by Lovett Homes
Construct two garden gates to demark the front and side entrances
Construct and maintain a bulletin board to communicate seasonal planting plans and work to be done
Furnish the interior of the shed
Build and plant the remaining 5 beds
Throw fundraiser parties in October and April
Invite children from local daycares to read the book "The Sunflower House" in the sunflower houses
We invite you to get involved. Membership is free. To join, just email jbabcocktx@gmail.com. Also you may join our facebook group: www.facebook.com/groups/476972015691263/