There's a book and TedTalk by Angela Duckworth about "grit" that seems apropos of the Southside Place Community Garden Board. Not grit as in grit and grime, although we do get pretty dirty on Saturday work days. I mean the personality characteristic of grit.
SS Living Magazine Jan 2018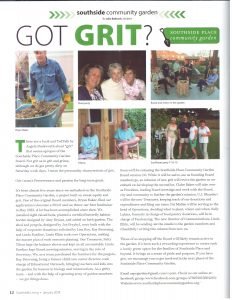 Grit (noun): Perseverance and passion for long-term goals.
It's been almost five years since we embarked on the Southside Place Community Garden, a project built with sweat equity and grit. One of the original Board members, Bryan Baker, filed our application to become a 501c3 and we threw our first fundraiser in May 2013. A lot has been accomplished since then. We installed eight raised beds, planted a certified butterfly habitat border designed by Amy Bryant, and added an herb garden. The shed and pergola, designed by Joe Przybyl, were built with the help of corporate donations solicited by Lisa Roy, Kay Browning, and Linda Burdine. Linda Elkin took over Operations, making the master plan of each season's planting. Our Treasurer, Patty Tilton kept the balance sheets and kept us all accountable. Linda Burdine kept Board meeting minutes, serving in the role of Secretary. We, as a team, purchased the furniture for the pergola, Kay Browning, being a former child care center director, took charge of Educational Outreach, bringing teachers and kids into the garden for lessons in biology and volunteerism. As a gritty team–and with the help of a growing army of garden members–we got things done.
Soon we'll be releasing the Southside Place Community Garden Board version 2.0. While it will be sad to see us founding Board members go, an infusion of new grit will revive the garden as we embark on developing the second lot. Claire Baker will take over as President, leading Board meetings and work with the Board, city and community to further the garden's mission.  U.J. Bhandari will be the new Treasurer, keeping track of our donations and expenditures and filing our taxes. Pat Mullen will be serving as the head of Operations, deciding what to plant, where and when. Sally Lukats, formerly in charge of food pantry donations, will be in charge of Fundraising. The new director of Communications, Linda Elkin, will be sending out the emails to the garden members and (thankfully) writing the monthly column in Southside Living Magazine from now on.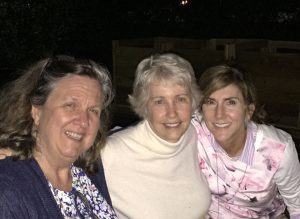 Those of us stepping off the Board will likely remain active in the garden. It's been such a rewarding experience to create such a lovely green space for the families of Southside Place and beyond. It brings us a sense of pride and purpose. If you have grit, we encourage you to get involved in the next phase of the Southside Place Community Garden.