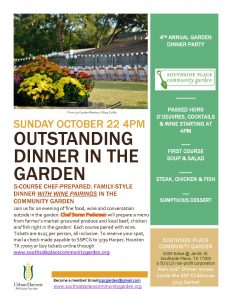 October marks our fourth annual fancy dinner party in the garden. In 2014, we had the perfect party in the garden. Set outside in October when the weather is typically nice, we set up a long table, dressed in white linens, with simple natural decorations. We hired noted chef and caterer Soren Pederson, who didn't even blink when we told him we had no kitchen, no water and no electricity. He set up his own cook shop on the open lot. We strung up some paper lanterns, greeted guests with a pink cocktail and passed hors d' d'oeuvres, poured some wine, and Soren and his waiters served us until well after sunset. Some guests remarked, "This feels like a wedding! We should do weddings here in the garden" and even "I'd be happy if this were my wedding!"
It was so perfect, we hired the same chef to develop and cook another five course menu in the garden in 2015. Unfortunately, the weather did not cooperate. Torrential rains and street flooding forced us inside the fire station making for a unique dining experience—unforgettable but less than perfect. In 2016, we had another picture perfect-party outdoor with no rain and a great turnout.
This year we will again greet guests with cocktails under the pergola. Chef Soren Pederson will again fire up his gas stoves and whip us up something fantastic. Dinner will be served family-style by attentive waiters. Special wines will be paired with each course. Not wanting to burden the firemen again, this year we have the Southside Place Clubhouse reserved as an emergency backup location.
If you missed this fundraising party the last threenyears, hurry and buy your tickets because we are sure to sell out. Cost of the tickets are $125 per person. Tickets are available here:
Click the link above to pay through Paypal or mail a check made payable to SSPCG to 3739 Harper, Houston TX 77005 A portion of the ticket price is tax-deductible, as we are a 501c3 charitable organization. Truly, this is the most outstanding party of the year.