Saturday, May 25, 10 am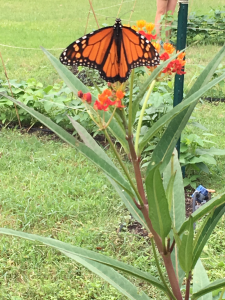 Cindy Raimond will meet us in the garden to share her 35 years experience working with butterflies. She will teach us how to create habitat that will attract butterflies to our gardens year after year. If you love our native butterflies you will not want to miss this presentation. Adults and children welcome!
One lucky attendee will win:
a copy of Cindy's favorite butterfly book
a butterfly habitat of your own
Cindy's personal cell phone number for advice
and several host plants to place in your own garden.
In addition, Cindy will help anyone that wants to create their own butterfly habitat during the event. Bring a very LARGE glass or plastic container or a small aquarium.